BTS member Jin always takes care of all members of BTS. Even though, all members of BTS take care of each other. In this blog post, we'll talk about how BTS member Jin takes care of each member in the group.
Jin is often being appreciated by all group members for his caring nature. V said that Jin often shows his strong side to the group members, but he might have a weaker side too.
What Jimin has to say about Jin?
In an interview, Jimin said that Jin is the eldest member in the group and he always takes care of everyone in the group. He also thanks Jin for his caring nature towards the group. Jimin said that Jin is the same as the J-Hope when it comes to caring nature. Jimin added that Jin makes the group bond stronger.
Jin wore the same outfit as Jimin because Jimin had got death threats from sasaengs. During a practice session, ARMY saw them wearing the same outfit. The person who was sending death threats also shared photos of the concert and seat tickets to show BTS members that they would be there during the concert. But nothing happened during the concert.
Read about "BTS' Jimin's Weight Loss Transformation"
What J-Hope has to say about Jin?
J-hope said in an interview that Jin plays an important role in the group and maintains the team together. He said Jin gives them strength. All members of the group are close to Jin in different ways. When they were on a tour, mostly everyone fell sick after the concert, and it is not uncommon that performers get tired after a big concert. J-Hope is one of them who fell sick during the Love Yourself Tour. After a concert, J-Hope was suffering from a sore throat. To comfort J-Hope, Jin gave him the RJ pillow that he always carries with him everywhere. Because of their fans, they performed on the stage.
RM and Jin's Friendship
In BTS members and ARMY interaction, an ARMY said that Jin is more trustworthy 'hyung' than other BTS members. And RM responded to this comment and agreed upon it. RM said that he respects him too. In fact, RM and Jin both support each other. RM and Jin said in an interview that they depend on each other when they try to be a good leader in the group.
During DNA performance, RM slipped, and Jin held his hand. And it seemed like that if Jin was asking RM if he was ok. In the episode of 'BTS Run' 35 and 36, RM and Jin were on the same team. Jin cooked, and RM was cutting onions. RM said Jin is one in a million.
Relationship between Jin and Jungkook
Jin and Jungkook are very close to each other, and they have a playful relationship. They have a large age gap of five years. Being the eldest member in the group, Jin always takes care of Jungkook when he was younger. He often dropped Jungkook at school. Jungkook often shows the same manners as Jin. Because of various similarities, Jungkook and Jin seem like biological brothers.
Jin and V's Friendship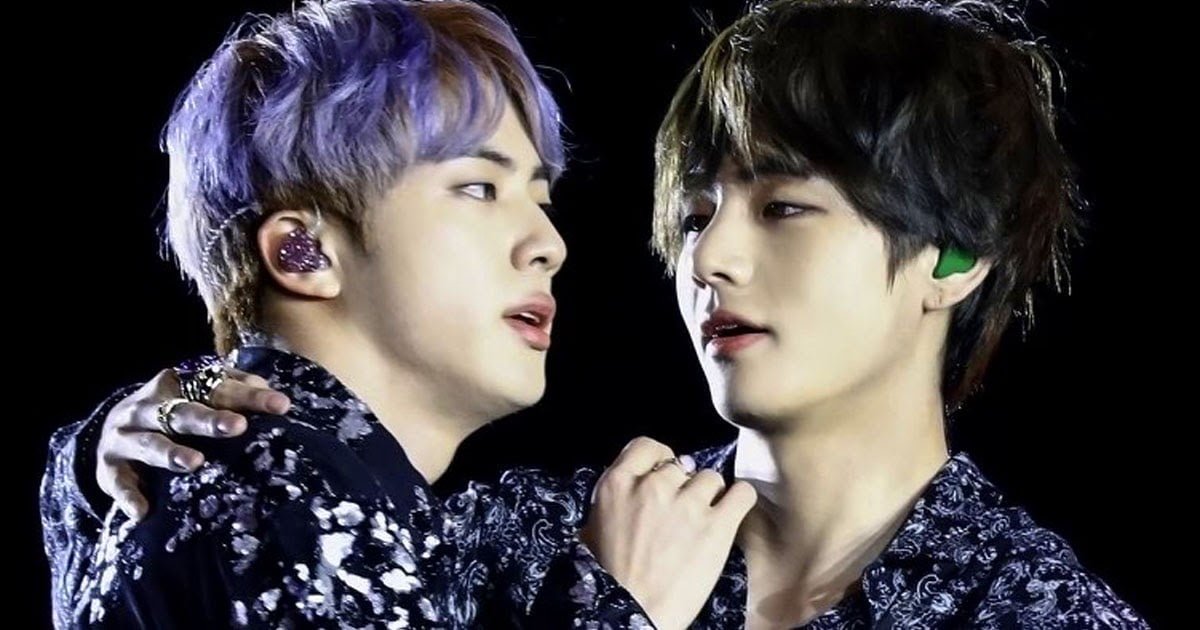 If you are a BTS fan, then you would know about Jin and V's friendship. Both have a close and strong bond with each other. Jin also chooses V as the closest member in the group. In a Japanese interview, V said that he loves Jin the most.
Suga and Jin Relationship
On Suga's birthday, Jin fulfilled his promise by treating all BTS members and the staff to a lavish dinner that worth USD 728. And Jin gave his card for payment. Jin and Suga said that they can have a long conversation without getting bored. So, they feel comfortable showcasing their personality. Suga and Jin were roommates for a long time and that's how they know more about each other. They said during this time, they came to know their limits.  In the 'Run BTS' show, mostly, you'll find Suga and Jin together. Both of them have good cooking skills. Whenever they make anything, other BTS members appreciate their efforts.
So, Jin has a good relationship with each member of the group and there is no doubt at all.
Read about "50 Unknown Facts about Kim Taehyung"
OTHER USEFUL LINKS:-
Fruits Names in Spanish
Benefits of Ash Gourd
Guduchi Meaning in Tamil
calories in curd
Salmon Fish in Tamil